September 10  Meeting : 10am start at the Academy
From David:
Hi Upper Valley Woodturners,
This September's meeting will be a mixed bag of demos and discussions pulling from the expertise and lessons learned by our members.  One area that many people have requested more input on is finishes.  What Ed Orecchio and I suggest is that we have an in depth discussion of finishes each of us use, their pros and cons.  So –  could you all please bring to this September's meeting some examples of turned pieces that you have finished and also bottles/cans of the finishes you use so that people can see what to buy (or not to buy…).  For example I use pure tung oil and polymerized walnut oil with very different results.  So I plan to bring in several bowls showing each of the finishes and the bottles of the brands I use, including thinners, and will discuss the method of applying each of the various products.  Should lead to a very interesting discussion.
We will also have  Bob Katz  painting on rims like what you see in this photo.
And Chris Schmidt showing Al Stirt's method for milk paint finish as you see here: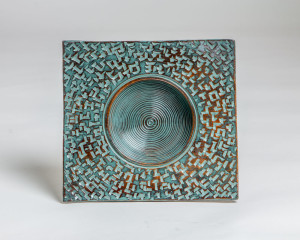 .  Best wishes and we'll see you at 10:00AM on Saturday, Sept. 10th at Thetford Academy.
Lamp Lighting for smooth results!
Here is the link to the LED Lamp used at the academy. (It is not currently on sale.)
https://www.woodturnerscatalog.com/p/90/5708/KJR-Beacon-LED-Lathe-Lamp
Link of the month: This video is a bit long, but if you haven't watched it yet, it is well worth paying close attention.
Established in 2008, "The Upper Valley  Woodturners" is a non-profit organization dedicated to the art of woodturning.  The club provides a meeting  place for woodturning enthusiasts to meet and share ideas and techniques regarding the craft & art of woodturning.  Membership is open to anyone who has an interest in woodturning no matter what skill level.  Our club members are from Vermont and New Hampshire. Woodturners from  other AAW Chapters are  always welcome.  The Upper Valley Woodturners is proud to be an affiliate member of the "American Association of  Woodturners".